A Gazebo
to quietly write letters,
read a book,
glance thru a magazine,
or invite a friend for afternoon tea.
-from "Tranquil Spaces" in The Romantic Garden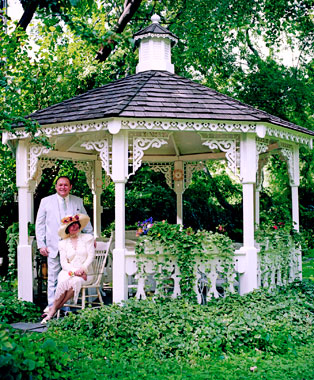 In our garden we feature romantic touches everywhere you turn.
Perhaps the best one is our Gazebo. Built for the occasion of our tenth wedding anniversary where we renewed our vows. We designed and made it up as we went along.
Our handy man hand cut all the ginger bread cut-outs, made the roof of wood shingles and added a cupola on top. I had found some old porch spokes in the attic that were left behind at the turn of the century. Our handy man made a pattern from one of them and that became the outside design of the lower half. We also went a step further and made four flower boxes to sit atop each of the edges of the gazebo. The other two sides remain open.
This was a beautiful finishing touch. We plant different color annuals and trailing Vinca in them every year. Variagated trailing Vinca will make a brighter show from a distance but takes a little longer to grow. Our trailing Vinca grew so long it rooted into the ground and has created a ground cover effect that we love.