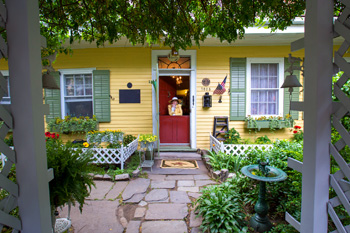 From the Front Gate of the Lent-Riker-Smith Homestead
Tours - 2020
Currently there are no group tours for 2020. Private tours may still be scheduled. Please see below for more information.
Admission for private tours is $50.00 per person (minimum 2 people) payable in advance by check, credit card or PayPal. Please make your checks out to Marion Duckworth Smith and mail to:
Marion Duckworth Smith
7803 19th Road
East Elmhurst, NY 11370
To pay by PayPal or credit card, enter all attendee name(s) in the box below, then click "Add to Cart". You can adjust quantity on the next screen if you are paying for multiple attendees.
Please RSVP, including date(s) and names of attendees, by email to info@rikerhome.com as soon as possible because space is limited. Private tours are also available by appointment for $50.00 per person, minimum 2 people.
About the Tours
Folks are free to stroll thru the garden and take photos. A diagram of the cemetery with the inscriptions of all 132 tombstones is included with the tour. A walk thru of the downstairs living quarters will be given by Mrs. Smith as well. Marionís book, The Romantic Garden, will be available for purchase.
The Homestead is the oldest private dwelling in New York City and is listed on the National Register of Historic Landmarks.
Additional displays on view include Marionís Collection of Carnival Chalkware Snow Whites, Carousel Artifacts, Broadway Theatrical Memorabilia, and, in commemoration of the 100th Anniversary of WWI, the Ascenzi Family History.
Hope to see you soon!

# # #