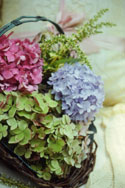 If you were to ask me to name my favorite flower I would have to stop and consider my answer. Depending on the time of year, the occasion, or my mood different flowers come to mind. Also some of my favorite flowers don't do well as perennials in my part of the country.
Whenever I visit the Hotel Bel-Air in Beverly Hills, I'm in awe of the flowers that thrive in their gardens that surround the swans on the lake. On our most recent visit we strolled through the garden around midnight and the Calla Lilies were glowing in the dark. One could hardly believe they were real. But they were.
Fox Gloves thrive in California, but I have not had any success with trying to get them to return year after year in our garden. In some regions they are biennial or perennial, but here I can only enjoy them as annuals.
Columbine did well the first year or two in our secret garden, but then our garden became so crowded I have not seen them bloom in years. I miss them.
In our garden the Magnolia tree is the first sign of spring - after the Crocus of course. It's always a thrill to go out the front door and see the first Crocus. How well the Magnolia tree does depends on what kind of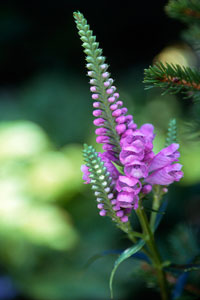 winter we've had and how far along the buds on the Magnolia tree were at the time of the last frost. As the Magnolia tree blooms out even the petals on the ground add a romantic touch.
Our Magnolia tree sits inside our garden and does not get a lot of sun compared to other Magnolias in the neighborhood. Many of our neighbors have their Magnolia trees outside their front gate sitting on a corner. These Magnolias make an early and beautiful display that makes me a little jealous. But then when I wake up in the morning I can glimpse my Magnolia tree from my bedroom window which is quite a treat.
After the Magnolia, usually the Tulips decide to come up, and they are a reinforcement that spring won't be turning back on us. I'm ashamed to say that I have a lovely tiny pink flower bush that grows outside the dining room window that I can no longer remember the name of.