Introduction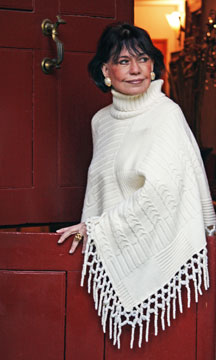 Mrs. Smith at the Front Door
On August 9, 1654, Governor Peter Stuyvesant gave a patent certifying ownership of this land to Abraham Riker. The Lent-Riker-Smith Homestead was built in about 1656, according to the Historic American Buildings Survey. Major additions to the original Dutch farmhouse were made by Abraham Lent, a Riker descendant, about 1729. The house remained in possession of the Riker-Lent family until the 20th century, when it passed to William Gooth, who had been the personal secretary to the last Riker who owned the house. Gooth rented the house out to various tenants during the mid-1900's, with the stipulation that nothing about the property could be changed.
Michael Smith has lived in the house since the 1960's. In 1975, he bought the property, the house and its contents from William Gooth. Beginning in 1980, he and his wife, Marion Duckworth Smith, began the present restoration.
The Riker Family graveyard in the rear contains 132 marked graves of the Rikers and the Lents. The exiled Irish Catholic patriot, Dr. William J. MacNeven, husband of Jane Riker, is buried here. Also buried here is Catherine Ann Tone, wife of Wolfe Tone, leader of the 1848 Irish revolt.
The gardens were planned and created by Michael and Marion Smith. Marion, a professional photographer, has used the scenery as the subject and inspiration for her best-selling book, "The Romantic Garden".
More about The Smiths and their Refurbishment of the Riker House