Restoration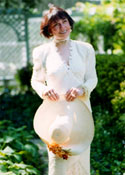 The first time I saw the house it was a cold, desolate night in November, 1979. I had known Michael for a month. We were on our second date.
"Where are we going?" I inquired. "How would you like to see my cemetery?" "Cemetery? Nobody has their own cemetery." "Well, I do," he replied. And off we went.
His house stood abandoned in Jackson Heights, Queens, New York. It had been unoccupied for almost four years. It was known as the haunted house of the neighborhood and it had been repeatedly burglarized and raped.
And he really did have his own cemetery, behind the house.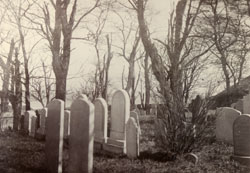 It was the burial ground for the once prominent Riker family, among the first Dutch settlers in this area. They obtained a land grant in 1654 from Governor Peter Stuyvesant and, some decades later, built this house. The house faces Riker's Island, where the prison was later built. There was once a Riker homestead, too, but that burned to the ground in 1938. So this modest little farmhouse with its acre and family burial ground was the sole surviving property from this prominent family's history.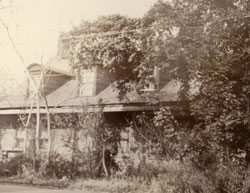 I stood shivering in the middle of the neglected cemetery, surrounded by broken, toppled, and shattered headstones, shaking my head, not believing a place like this could still exist in New York City. The house itself was dark, cold, cluttered, and sagging; it seemed shrouded in mystery and ready to cry. The electricity and hot water had been turned off; it was plain to see the house had died a mournful death. It was waiting for someone to bring it back to life. It was waiting for me.
And so we were married; Michael and I, that is. No sooner had he carried me over the threshold than I rolled up my sleeves and got to work. From the moment I met Michael, and saw that house, it was a labor of love.
Join Marion's Mailing List