Restoration
The first project was the attic, where I fulfilled every little girl's fantasy-sifting through an attic full of forgotten relics. Ours had not been cleaned in 100 years. The Riker family had rented out the house for years, and told tenants (among them my husband) that the attic was off limits. The estate's accountant later bought the place, continued to rent it, and stored all the family papers in the attic, some dating back to 1883: ledgers, wills, financial directories, diaries, photographs. My husband bought the place lock, stock, barrel, and contents of attic.
Michael's a rather tall, robust man, not built for hoisting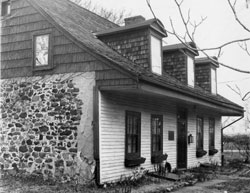 himself up through a tiny opening and then stooping under a low roof. He's been in the attic only twice during our five years in the house. (I'm up there every week.) It took me three months to read through the contents of the attic; it was such fun. The first time Michael came up, he looked around and grumbled, "It would take four men two weeks to clean this out." I rolled my sleeves up a little higher and did it in four days. Besides the books and papers, there were cartons of empty bottles, stacks of glass, piles of wood, a pot-belly stove, wooden Venetian blinds, old wooden cabinets, a set of 54 hardbound financial directories weighing six pounds each, and lots of dust. By the end of day three, as exhaustion was setting in from climbing up and down the attic to remove each item separately, I opened the attic window and, with wild abandon, started tossing the wood and other debris out.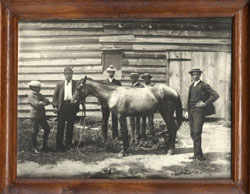 The cabinets, stove, bottles, photos, and other useful items have all been incorporated into the house's décor. The papers we donated to the Long Island Historical Society for a whopping tax deduction that staggered me more than had all that hoisting and carrying. My husband began to think I was worth my weight in gold, the house could breathe easier, and my hair was turning grey.
Back to Marion's Story Continue to The Kitchen Sink
Join Marion's Mailing List